SheWork Zine


Creative Direction, Research, Editorial Design, Photography

Special thanks to everyone who was interviewed.






This project was created as my senior capstone project. It is a self created project done through my senior year at UT. It was originally intended to be exhibited at the VAC's

"Thanks for Understanding"

exhbition in April 2020 but due to COVID-19 moved to a digital space.

Austin is one of the cities in the country with the most women owned businesses but these businesses continue to make less revenue than their male counterparts. I hope to make women owned businesses in Austin more visible and accessible to consumers through a zine and map showcasing interviews, photos, and research on female and nonbinary business owners.

See the full project here.
Community Visibility


In order to gain more revenue, WOB need access to loans and the ability to hire employees. Visibility within their communities will bring the stores more customers as well as provide opportunity for networking and community support.
I surveyed consumers on South Congress and on the University of Texas campus to find out if they were aware that they were shopping at women owned businesses.
I found that people frequented businesses that aligned with their ideals. For example, someone often ate at Bouldin Creek Cafe because of their vegan options. The majority of people could identify that they were all local businesses (most likely due to camapigns like Keep Austin Weird) but only 1 out of 30 could identify that they were women owned.
Distribution and design


The zine was intended to be free to pickup for shoppers at any of the stores that it featured. It was created to educate consumers about the store they were in and introduce them to other women owned businesses that they could also visit. Early inspiration for this project came from postcard sized maps available at vintage shops in Austin that introduce shoppers to other vintage stores around town. The goal of the zine is to raise awareness for local WOBs and drive traffic to their storefronts. This zine provides avenues for people interested in supporting WOBs.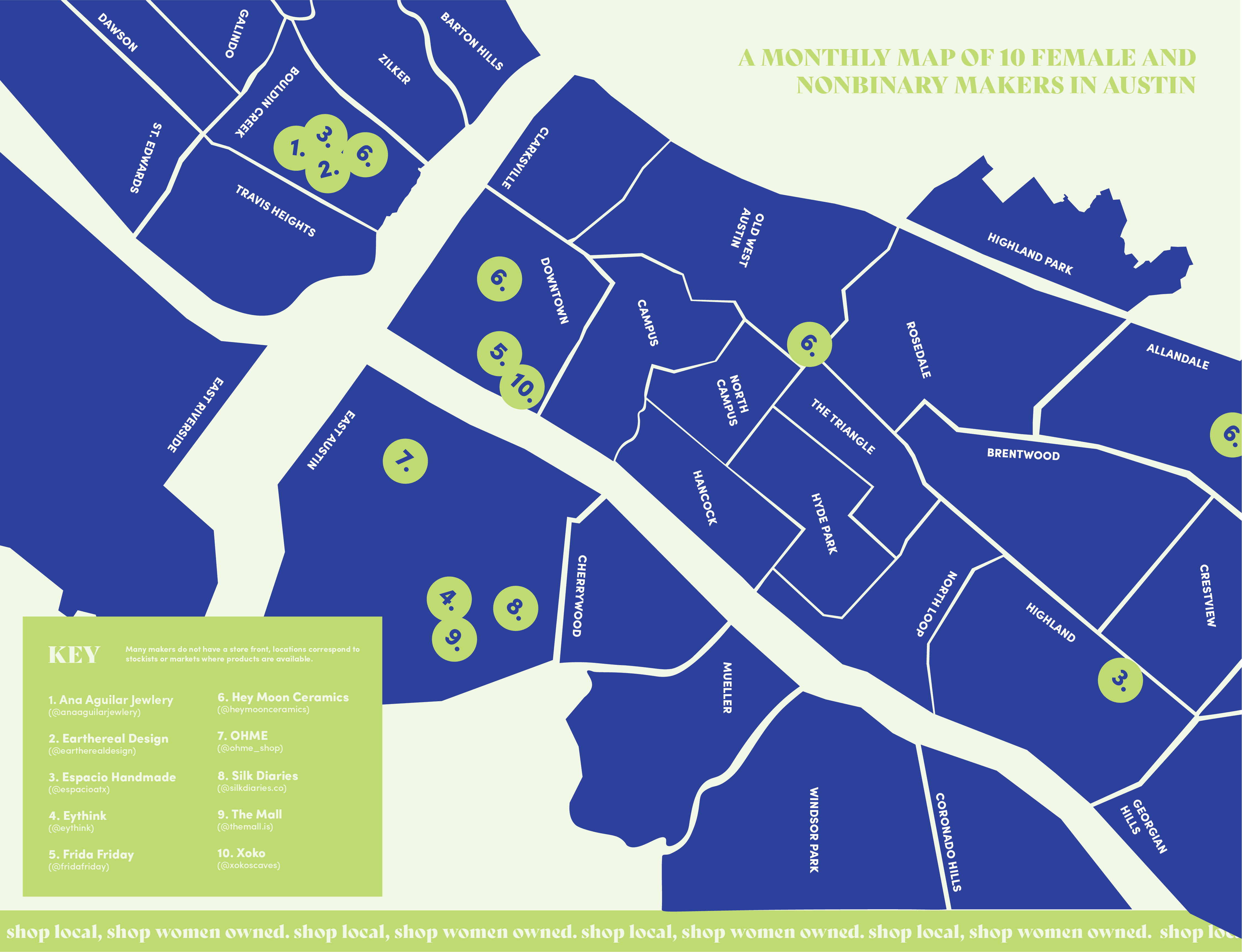 The zine itself features an interview and photos of the business owner in their space and then unfolds into a map. The zines feature different kinds of businesses; restaurants, lifestyle stores, and handcraft goods as well as a variety of sizes of businesses. Business owners range from side hustlers to those who have been in the business for the last 25 years. The maps feature 10-15 businesses similar to the one featured in the interview. A new issue of the zine would be released monthly featuring a different business owner and an updated map. Austin is lacking a solid directory of WOB because they open frequently and close quickly. Monthly updates would circumvent this problem. On the back page of the zine, I complied data on WOBs and provided action items for consumers to help them support WOBs.


The show must go online

This project was supposed to be exibited at the Visual Arts Center at UT Austin as part of the senior capstone exhbition "Thanks for Understanding".Due to Covid-19, the show became digital. I changed the display of my zines so the stories and photos can be read online. Maps are available for download.
Learn more about the project at the SheWork website.