SheWork
Zine


Special thanks to everyone who was interviewed:
Jane Claire Hervey, Doreen Lorenzo, Maria Oliveira, Kylee Barnard, Sharon Watkins, Shauntavia Ward, Elizabeth Jane Field, Hannah Epelbaum and Kayla Fritz, Riley Blanks Reed, Sanetra Nere Longno, Mary Richardson
* all photos taken by Maya Coplin





Austin is one of the cities in the country with the most women and nonbinary owned businesses but these businesses continue to make less revenue than their male counterparts. SheWork is a platform highlighting these businesses in the Austin area through a monthly zine, map, and digital content. These resources are meant to make the businesses more visible and accessible to local consumers.

SheWork was originally intended to be exhibited at the VAC's

"Thanks for Understanding"

exhbition in April 2020 but due to COVID-19 moved to a digital space.

Read all the zines here.
The data on women
owned businesses


Women owned businesses account for 42% of businesses but only 4.3% of the revenue. In order to gain more revenue, WOB need access to loans, mentorship, and the ability to hire employees as well as visibility within the community.

Through surveying the community, I found Austinites shop places that align with their ideals and are invested in shopping local. While many were interested in supporting women owned businesses, they could not identify these businesses and did not have the resources to locate them. In Austin, there are many organizations that help female and nonbinary entrepreneurs but few resources aiding the consumer. SheWork provides that resource to Austin area shoppers.



Photo by Brittany Halberg
The Zine
The zine features an interview and photos of
business owners in their place of business and then unfolds into a map featuring 15 similar businesses in Austin. Each issue features a different type of business; restaurants (green), lifestyle stores (pink), and handcraft goods (yellow). Business owners featured range from side hustlers to those who have been in the business for the last 25 years. The zine provides easy avenues for consumers to support WOBs.
Circumventing the issue of creating a WOB directory, a new issue of the zine would be released monthly featuring a different business owner and an updated map. The zine is free to pickup for shoppers at any of the stores that it features. It was created to educate consumers about the store they are in and introduce them to other women owned businesses that they could frequent, driving traffic to the storefronts.
Read all the stories here.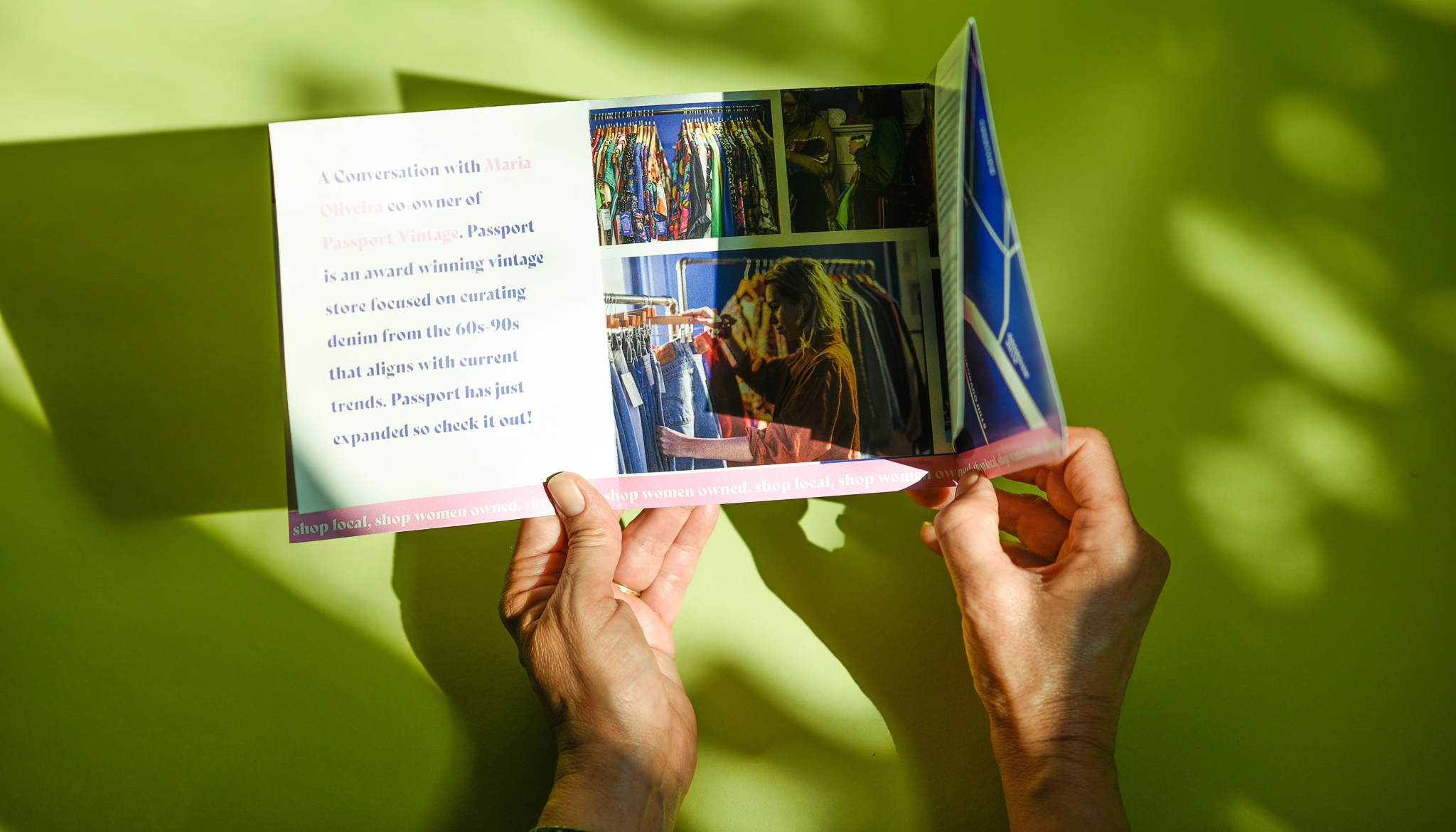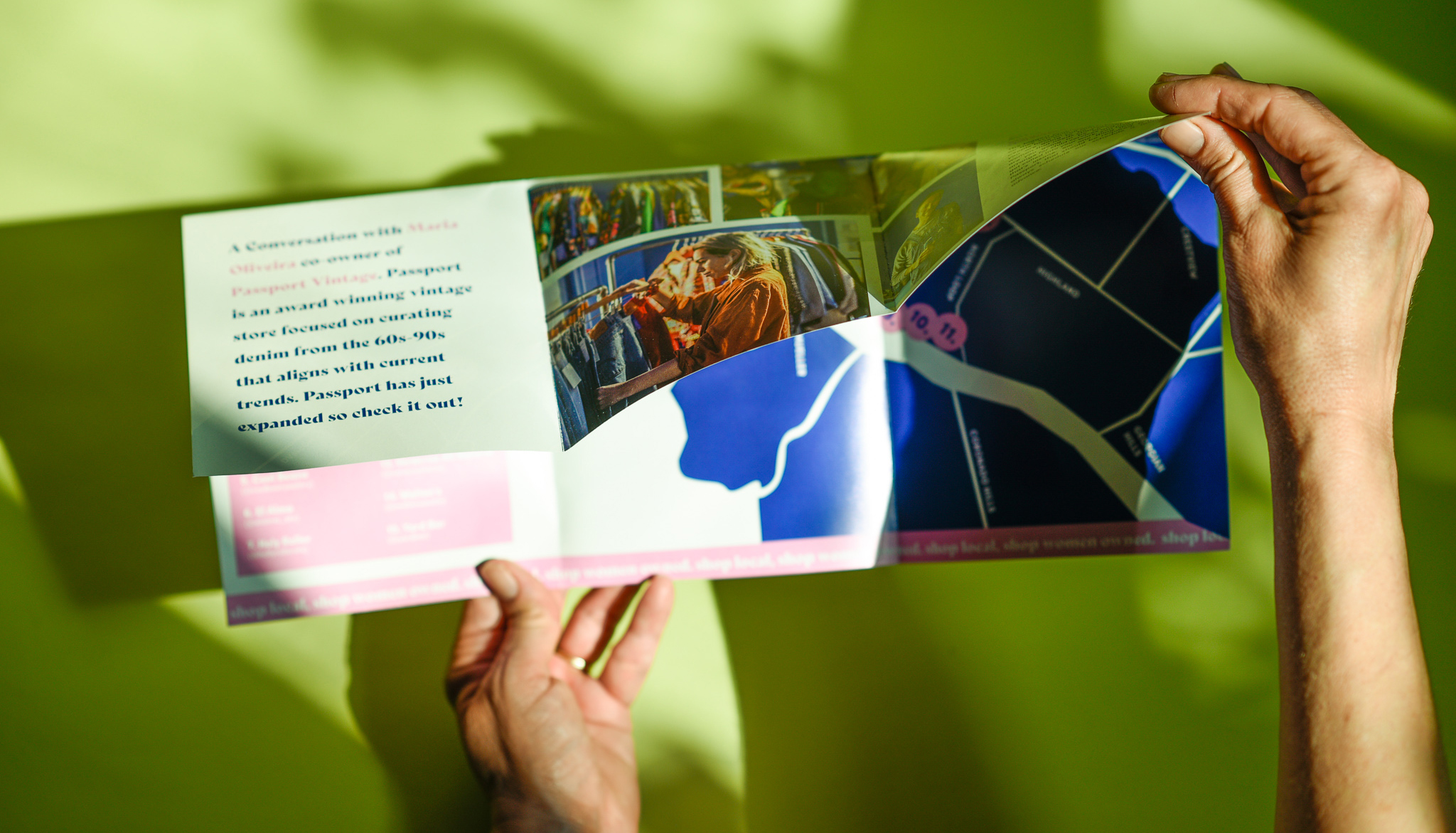 Visual Identity

The visual identity of SheWork uses bright colors and bold typography to attract shoppers to read the zine in a digestible way. It features environmental portraits showcasing different businesses allowing the reader to feel connected to the founders. The brand voice is casual and at the same time informative playing off of familiar phrases used in campaigns to shop local.




Brand Touchpoints

Aside from the zine, the SheWork brand lives in many spaces. The zine is archived digitally at the SheWork website. It also features fun merch to spark interest in the zine series.