---
ORANGE MAGAZINE


ORANGE Magazine is an independent magazine based in Austin TX. The magazine focuses on arts, music, and culture as it relates to young people in the Austin area. It emphasizes meaningful dialogue between the UT community and the greater Austin area. The Reactions Issue focuses on the reactionary time we are living in. This print issue focuses on the instant reactions to the world around us and investigates the anxieties we have towards these upcoming changes. Visually the magazine goes from dark to light, taking the reader through feelings of reaction, anxiety, comfort, and eventual change. The Dimensions Issue focuses on different aspects of each others' lives converging. The magazine jumps from covering local bands, sustainable living, and books for incarcerated people, while visually feeling energetic and inviting.
Made in collaboration with ORANGE Magazine
---
FUTURE FRONT TEXAS ZINES

What We Need to Do Our Best Work and How To Nurture Abundance and Prevent Burnout are part of the growing series of zines created in collaboration with Future Front Texas to share resources with their community. Future Front Texas is a nonprofit that creates a low-pressure learning community, celebrating women and nonbinary creatives, leaders, and entrepreneurs in Texas.

What We Need to Do Our Best Work visualizes a 2019 study conducted by the Future Front Texas team on the needs of the community. It combines qualitative and quantitative data into a comprehensive guide featuring interviews and photos of prominent leaders in the organization's network. How To Nurture Abundance and Prevent Burnout is a journaling guide providing the reader with daily practices and resources to cope with burnout.

The series of zines tells a cohesive visual story using a modular structure that is energetic and playful while being a long lasting and easy to use template for any and all zine concepts. It is simple in nature allowing featured artwork to make statements. The typography and color systems are expressive, warm, and inviting.

Made in collaboration with Future Front Texas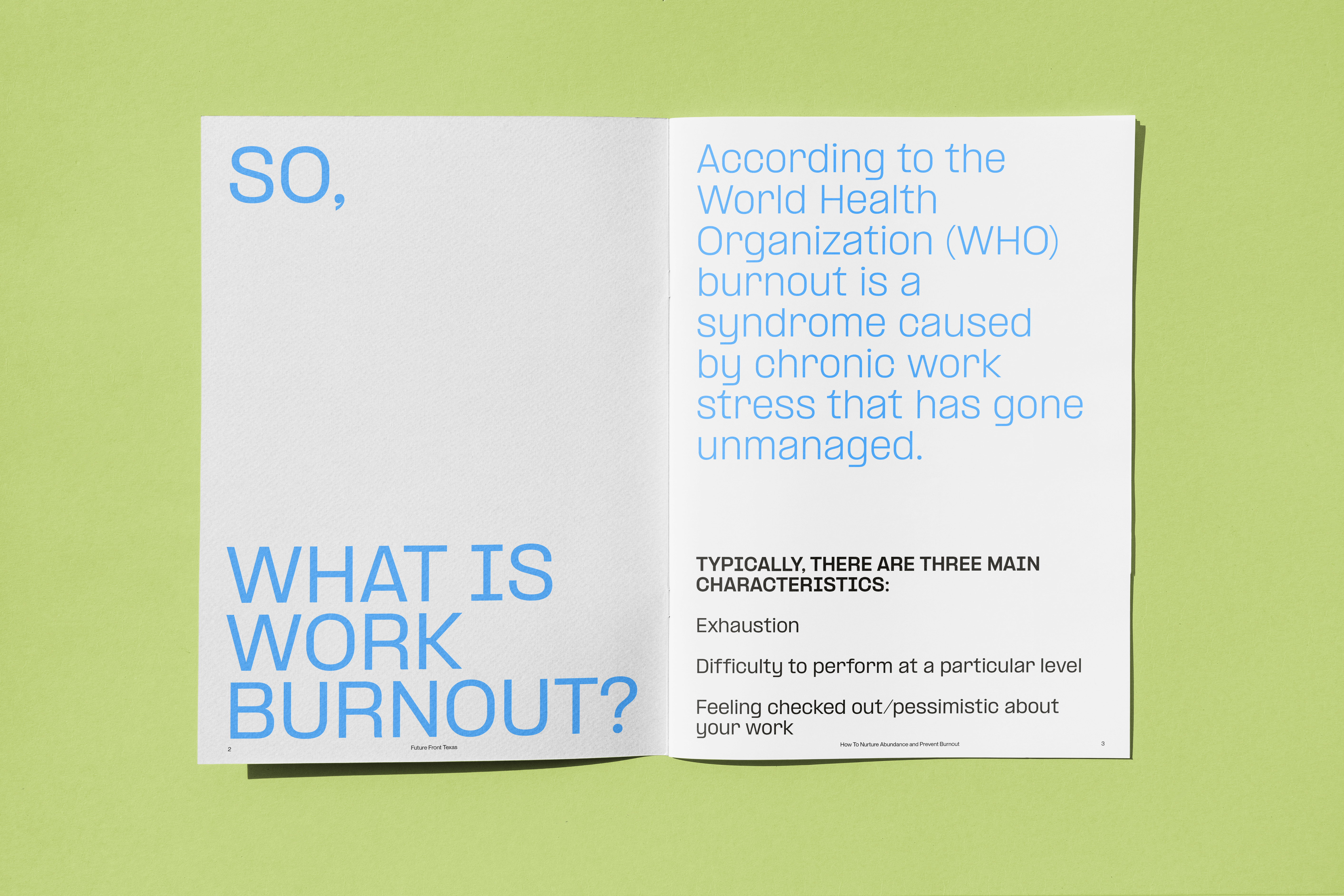 ---
BOOK AS BODY


Book as Body is an adhesive bound book exploring issues relating to the body. The book shares the medical journals that my grandmother wrote in nursing school. The journals were written as stories rather than just documentation. As a book, the journals become permanent. All the notes are now together in one place and the new version, unlike the typewritten pages, will not fade. The original format shaped many of my design decisions. The typeface is inspired by the original pages as well as the off-white color of the paper. The illustrations came from the original sketches and the photographs are reprinted using cyanotype printing.
Written by Dee Coplin